Re: Local Real Estate Market – June 2022
Enclosed, please find your June issue of the Palm Beach area Market Watch real estate newsletter. 
On page one, discover How to Get the Most Money Out of Your Home When You Sell. Or order a computerized lists of homes under $500,000 in your desired area, free of charge and without obligation.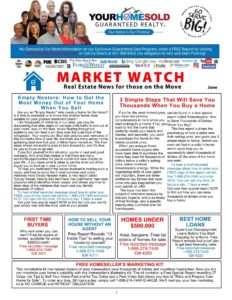 Whether you're buying or selling a home, we're sure that you have lots of questions.  We hope this newsletter has helpful information on a variety of topics which may be of interest. 
On page two, discover How to Set Your Asking Price When Selling Your Home. Also learn how you can order additional free reports on a variety of topics impacting local home sellers and buyers. 
I want to take just a moment to remind everyone to visit my website, 
www.RickKendrickTeam.com. The site has many resources I hope you find helpful. 
Don't forget, you can call my office anytime at 561-408-0904 for a FREE Quick Over-the-Phone Home Evaluation.  As its name implies, this is a NO cost, NO obligation way of learning what your home can sell for in today's market.  
Of Course, if you are ready to make a move, you can always call me direct at 561-702-4782.  
We look forward to hearing from you when the time is right.   
Rick Kendrick
561-702-4782